Your one-stop techwear store.
Embrace the unique techwear aesthetic and join hundreds of satisfied urban ninjas.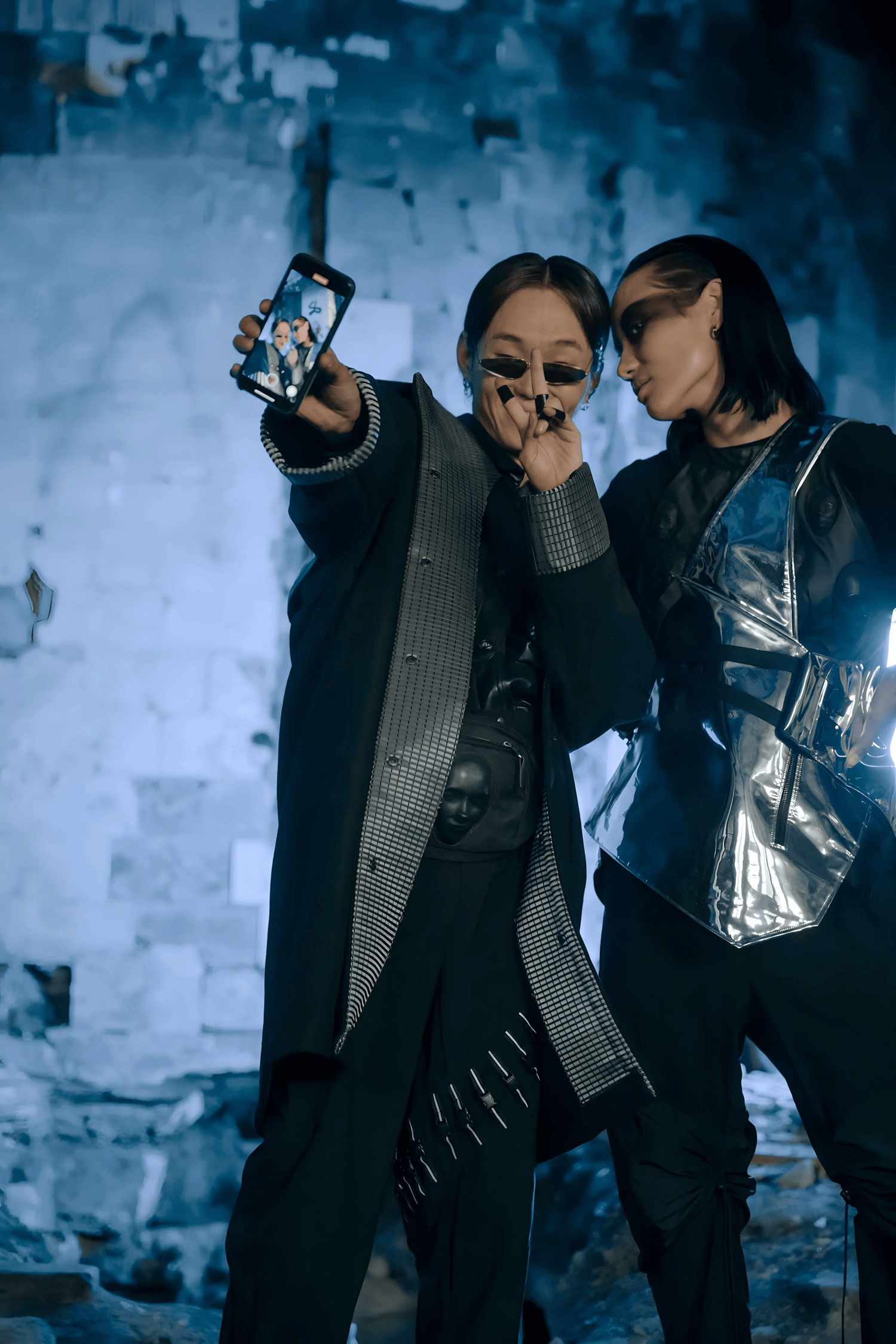 We create fearless individuals.
Created with a deep understanding of the modern world, our products promise elegance and performance to the audacious souls who dare to chart their own course.

Free Worldwide Shipping
Wherever you are in the world, we are here for you.

14 Day Guarranty
Not satisfied? We return your money within 10 days.

Easy Returns
Hassle-free return policy. No questions asked.
Your Techwear Essentials
Check out our best sellers and take your Techwear outfits to the next level.

French company
We process your orders from our warehouse in Paris, France.

Made in Japan
The majority of our products are made in Japan. Find out more.

Responsive customer service
Mary is here to answer all your questions!

Packages prepared with care
We pack and ship your parcels with the utmost attention.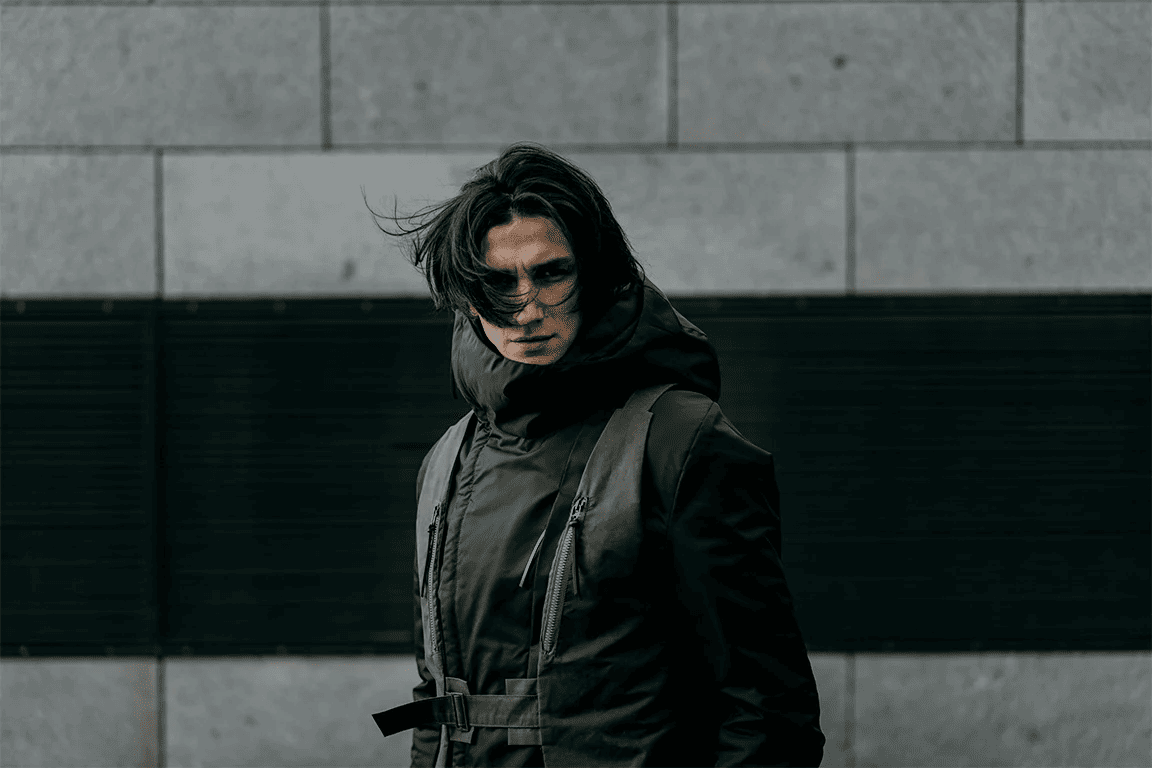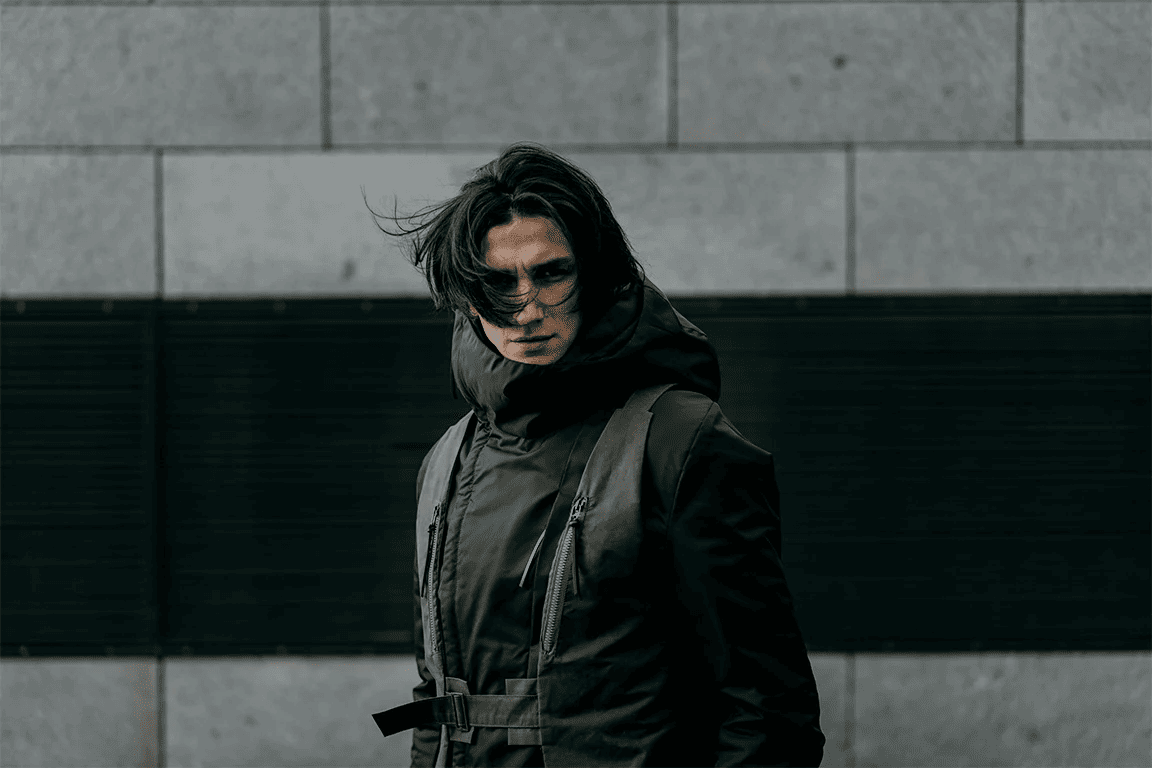 Urban Techwear on your doorstep.
Reject conformity. Join the Revolution.
What is Techwear Clothing?
The Techwear Aesthetic

Techwear is a unique clothing style that offers the perfect mix of futurism and functionality. Today, the techwear aesthetic refers to technical products that combine versatile streetwear, military items, and cyberpunk clothing to create sleek and fashionable outfits that look cool and have multiple practical features. 

Techwear items are unique thanks to the combination of high tech fabrics like Gore-Tex paired with leather pieces and high-quality materials. Comfortable, durable, water-resistant and windproof, they keep you warm and dry whatever the season, even in the most extreme weather. These items act as life armor. Techwear outfits don't alter their wearer's freedom of movement or elegance. Stay cool no matter what mother nature throws your way! 

Other items like chest rigs, cargo pants, military bulletproof vests, and techwear masks are a must-have if you need to create sleek and stylish outfits for any discerning trendsetter looking ahead to the future.

With the emergence of techwear brands, such as Nike ACG, Stone Island Shadow Project and Errolson Hugh's company « Acronym,» techwear products have evolved to provide an exciting combination of both practical features and stylish streetwear looks.

Products designed by these high-end techwear brands can be expensive. However, many new and niche techwear brands, like us at OFF-WRLD, offer affordable categories of products for a reasonable price. 

For those wanting to build the most unforgettable outfits, our tech outfits jackets are a modern fashion staple. Equally stylish and comfortable in any situation - from the great outdoors to everyday life - these products combine superior construction with durable materials for optimal performance while showcasing a unique style. Techwear jackets keep you warm and dry in any environment and feature many pockets - sometimes hidden - while providing a good storage capacity. Whether you're looking for a cool and casual windbreaker to wear mid-season or an elegant urban coat, we have what you need.

Why not complete your look by adding dark aesthetic clothing from the multiple categories of products available on our site to upgrade your style with clothes like pants, shirts, vests, shoes, hoodies, sneakers, and accessories such as hats and jewelry.

Hard shell jackets, trench coats, Japanese windbreakers; choose techwear jackets over anything else.

For streetwear enthusiasts looking to add a fashionable touch to their style, Techwear pants are a must-have. Born originally from military clothing, these joggers have become increasingly popular for a good reason: catching looks and functional features in one product. If you need to carry some equipment for outdoor activities or want to safely store your personal belongings such as your phone in safe pockets, these joggers and trousers are the perfect choices for daily usage. From work meetings to casual nights out on the town, black cargo pants - one of the most popular types of techwear pants deliver maximum comfort with sophisticated details. Do not hesitate to browse our site to find the product that suits you most!

Techwear hoodies are a new bread of hooded sweatshirts that combine functionality and aesthetics. We designed our hoodies with advanced high tech-fabrics that make them suitable for various outdoor activities, including hiking, camping, and even urban exploration. 

These products are breathable, water-resistant, quick-drying materials that keep the wearer dry and comfortable in any weather. They also feature multiple pockets, adjustable hoods and other practical features that make them suitable and functional. These products are the perfect choice for anyone looking for stylish and functional clothing that people can wear daily. They are considered a great blend of fashion and fiction, making them a must-have for any outdoor enthusiast.

These items add a cool « underground ninja » touch to your style, from black zipper hoodies to soft-shell pullovers. Discover our shoe collection, grab a pair for a reasonable price and illuminate the streets of your town!

Techwear shirts are undoubtedly popular among the streetwear community. These products are the perfect blend of futurism and style. Comfortable and fashionable, they provide futuristic clothing options that combine modern tech with sleek designs to create a stylish and practical look. Whether you're looking for something casual or more formal, techwear t-shirts provide a cool mix of fashion and functionality.

In our store, you can buy various t-shirts with different colors, logos and details that match your mood. From Korean techwear letterings to Japanese techwear designs, you will have a blast wearing these products daily. On your way to work or to attend a party in a club in your town, techwear 

 T-shirts offer an exciting and simple new way to express yourself through urban fashion.

Discover our collection of shirts and choose the values you wish to incarnate through futuristic designs and intelligent features.

Techwear shoes are the epitome of innovation. Our collection showcases revolutionary designs and features – from reinforced toe and heel for extra durability to slip-resistant soles perfect for trail walks or hikes! And with a range of colors such as black, flash red, urban sneakers and military boots styles - these items will upgrade your techwear style instantly and add more functionality. Walk away feeling protected every time you step outdoors!

Upgrade your look to the next level with a tactical vest! From streetwear to technology outfits and ninja styles, there's no limit to what this tactical accessory can do. If you choose to rock it, don't be fooled by its origin: inspired originally by military bulletproof vests, these pieces are both practical and stylish. Thanks to these functional products, carrying personal belongings (instead of ammunition) like a phone, a wallet and keys have never been so safe and fashionable. So permit yourself to go bold: it might become one of your techwear essentials!

Techwear accessories are statement pieces that can add a cool edge to any outfit. In terms of ninja and cyberpunk clothing, you may want to check out our futuristic masks, helmets, and other types of face protection.

Techwear Masks are one of the most popular futuristic accessories on the market. They instantly add a ninja vibe to any outfit. These items offer various styles ranging from minimalistic and sleek to more rugged and tactical. OFF-WRLD store provides a range of masks and face shields designed for airsoft and paintball. These masks are made of durable materials and offer excellent protection. Remember that when buying covers for fashion, it's essential to look for a balance of style and function.

For a more casual look (and less aggressive vibes), you can pick one of our fashionable caps, buckets hats, and beanies. You can combine them with a shirt, techwear pants and a pair of shoes to create a cool look in a flash. You must keep in mind the overall aesthetic of your outfit and keep it simple with only a few accessories.

Products designed by techwear brands such as Acronym, Nike ACG, Stone Island Shadow Project, and C.P. Company can also offer you great techwear accessories, but they are on the high-end side of the price range. And when buying accessories for fashion purposes only, it's essential to look for a balance of style, function and price. Accordingly, the products we offer on our site are inexpensive and can quickly sublimate any outfit.

Shop the latest trends and create the techwear style that suits you by browsing our store. Military, cyberpunk, ninja techwear inspired by Japanese culture, there are plenty of fashion categories you can take inspiration from, and many stylish combinations you can try to build amazing techwear outfits.

Find fashionable and aesthetic black outfits to enhance your outfit among a wide variety of hoodies, t-shirts and techwear shoes and discover the best techwear brands. In addition, exclusive accessories like masks, hats, and silver jewelry. All the items and gear required to design a unique aesthetic.

Read about Techwear: What is Techwear Clothing?
Urban Techwear

Urban Techwear is now the essence of today's techwear fashion. New brands offer sportswear clothing with good designs and above-average quality fabrics that people can buy at reasonable prices. Young people in megacities have taken advantage of this unique situation. They have been pushing the trend limits to the maximum by making exciting combinations and new usages of clothes, leading to amazing outfits they can show on social media. For instance, it is not rare to see them mixing military clothing, techwear pants, futuristic sneakers, and Japanese high-steel swords. Consequently, urban techwear fashion is now suitable and affordable for any budget and everyone who needs a hand to add a little style to their outfit.

In addition to their fashionable side, products and items in techwear fashion offer as practicality and functionality as ever. They are now perfectly city-adapted thanks to lightweight materials, provide a waterproof function, and keep their wearer warm in any season. Undoubtedly, techwear garments have made a breakthrough in the streetwear scene.

To build a more sophisticated urban style, remember to add layers to your outfits. The mid layer is the stylish secret to keeping warm in any weather. There are endless fashionable options, from down vests and hoodies to trendy insulated shirts and classic wool garments. Some components come with removable layers that can be easily added or removed through simple zipper systems or buttons for extra versatility! But don't settle for just the basics! Upgrade your wardrobe with high-tech clothing staples—like neutral shirts boasting innovative features as base layers. Take your look to the next level and stay ahead of fashion's curve.

Today, when buying urban techwear clothes, you must consider the many details of the products (cut, finishings, zippers, pockets, designs, colors) and the quality of the materials. 

And if you need inspiration and want to create a more daring look, we suggest you combine urban techwear clothes with cyberpunk gear our choose some techwear goth pieces. Your appearance won't make anyone indifferent.
Futuristic Clothing

Techwear is all about futurism
Futuristic garments refers to apparel that embodies visions of the future, often influenced by science fiction, technological advancements, and speculative design. It diverges from conventional styles, aiming to represent anticipated or imaginative future scenarios. Here are some defining characteristics and inspirations of this fashion movement, that our techwear store has full embraced:

Technological Integration: mens futuristic clothing often incorporate technology directly into the garments. This can range from LED lights and digital interfaces to more advanced features like self-heating or reactive fabrics.

Unconventional Materials: These avant-garde clothes may use materials that aren't typical in today's fashion, such as transparent vinyl, metallic fabrics, or even experimental sustainable materials.

Innovative Construction: Instead of traditional sewing, futuristic designs might utilize methods like 3D printing, laser-cutting, or even molecular manipulation.

Sci-Fi Influences: Many designs "from the future" draw inspiration from science fiction movies, books, and TV shows, incorporating elements that seem alien, otherworldly, or reminiscent of space travel.

Minimalist and Sleek: Many interpretations of the future lean towards streamlined, sleek, and minimalist designs, focusing on clean lines and a lack of unnecessary embellishments.

Functional Adaptations: Some futuristic technical clothes considers the potential needs of dystopian societies. This could include adaptations for space travel, changing climates, or urbanized settings with high pollution.

Interactivity: Some garments are designed to interact with the wearer or their environment. For example, clothes that change color based on mood, temperature, or air quality.

Modularity: In envisioning future needs, some designers emphasize modularity, where pieces can be adapted, reconfigured, or customized based on different situations or user preferences.

Aesthetics: The look of futuristic clothing often breaks with current fashion conventions, embracing asymmetry, unusual silhouettes, and bold, often monochromatic color schemes.

Ethical and Sustainable Visions: Given increasing concerns about the environment and ethics in fashion, many futuristic designs prioritize sustainability, envisioning a future where fashion is eco-friendly and ethical.
Functional Garments

Are you looking for stylish and durable outerwear? Discover the best functional clothes at the best price in the OFF-WRLD store. These products are perfect for fashion and ideal for people who work in outdoor environments or enjoy hiking. Techwear practical clothes keep the wearer dry and comfortable whatever the season. They are the perfect gear for any outdoor enthusiast or urban adventurer. With waterproof, windproof materials and smartly designed compartments and pockets, it's ideal for keeping you dry, comfortable, and organized in all weather conditions. Plus, with durable closures that are easy to access - even when wearing gloves – your essential items like phones will stay safe no matter your challenges.

When you think of functionality in fashion, the first thing that comes to mind is the jacket. Techwear jackets come in hard shells and soft shells and are among our bestsellers. The first ones protect you from the element and are breathable. In the case of heavy rain and snow, the hard shell jacket is the only way to go.

On the other hand, soft shell jackets have to withstand light rainfall. They are often compared to windbreakers or ponchos but are way more comfortable, breathable, and adapted for sports activities. These products are also way more city-adapted and are easy to mix with other techwear pieces.

But when it comes to functional clothing, it would be a mistake to go without good-quality pants, shirts and accessories. The most reliable pants you can bet on are the ones inspired by military clothing. 

For These items can enhance your performance in the great outdoors. For instance, techwear gloves can provide both warmth and dexterity. They are waterproof and breathable and often provide reinforced knuckles and palms. These items can also feature a per-curved construction and a removable liner for added functionality.
Techwear Shirts
Techwear Shirts are more than futuristic clothing: they upgrade your urban style in a blink.
Techwear Shoes
Walk proudly among mortals with our high-performance Techwear Shoes and illuminate the streets of your city.
Techwear Accessories
Give your techwear style the final touch with our cutting-edge outdoor accessories.
Techwear Vests
Inspired by military clothing, techwear vests are the perfect tactical gear for boosting your ninja style and withstanding external aggressions.
Techwear Blog
Want to know more about the techwear aesthetic? Check out our detailed posts, written regularly by our experts in technical clothing, streetwear and cyberpunk fashion, and become an expert in futuristic clothing.
Techwear Outfits: a fusion of many influences.
Cyberpunk Techwear

For an even more daring look, there's the Cyberpunk Techwear style; this unique trend draws its inspiration from science fiction and pairs it with rock, robotics and high-tech materials in striking designs that evoke futurism and performance. This sub genre has become very popular among city inhabitants. This "dark tech clothing style" distinguishes itself with retro designs from the 80s and flashy colors, creating sophisticated techwear outfits. 

You can buy vital accessories like masks, helmets or hats to create an eye-catching cyberpunk appearance. We designed them to look like futuristic versions of traditional headwear, providing a unique and stylish look. Techwear shoes are another vital aspect of cyberpunk fashion. They look like they are from the future, featuring bold colors, shapes and futuristic materials. Grab a pair of these products if you need to make a statement and complete your cyberpunk appearance.

Go bold with Cyberpunk clothing and never look back to the clothing styles of the commoner.
Japanese Techwear

Experience effortless style and unbeatable performance with Japan-inspired clothes. This form of fashion combines traditional elements, such as yukata and kimono silhouettes, with cutting-edge materials to create a look that is both stylishly modern and highly functional. Japanese Techwear and Korean Techwear also incorporate unique designs and colors. Japanese windbreakers and techwear t-shirts with designs from Japan are among the best sellers in our store.

But Techwear has recently been taken to the next level through Ninja techwear - adding futuristic elements to create eye-catching outfits. Accessories such as masks, shoes and sweatshirts complete many looks, while streetwear influences add another layer of versatility. 

The rebellious and non-conformist state of mind that irrigates through the streetwear scene in Japan and Korea is also at the heart of the Techwear movement.
Korean Techwear

Korean techwear is a famous fashion subgenre. It refers to the style and design of functional clothing inspired by technological and futuristic themes that have emerged and gained popularity in South Korea. Like the global techwear movement, this fashion sub genre focuses on functionality, comfort and style, but is often characterised by a number of distinctive features:

Cutting-edge aesthetics: While techwear in general is known for its functional aspects, Korean technical clothing often associates it with contemporary and avant-garde fashion trends, typical of Seoul's vibrant fashion scene.

Urban adaptability: Given the hustle and bustle of Korean cities such as Seoul, technical garments designed here often meet the needs of city dwellers: waterproofness, storage solutions and adaptable design.

Influence of K-pop and Korean streetwear: The global influence of K-pop and the unique Korean streetwear scene have given a particular flavour to Korean technical clothing, often resulting in pieces that are flashier or more showy than the more discreet and utilitarian technical clothing of other regions.

Cultural infusion: Elements of traditional Korean clothing and design, such as the Hanbok, can sometimes be incorporated or reinterpreted in modern technical garments, adding a unique cultural touch.

High-tech fabrics: As with all technical clothing, Korean brands use avant-garde materials for moisture wicking, insulation, breathability and durability, among other features.

To fully appreciate the nuances of Korean techwear, it's worth exploring both popular Korean fashion brands that dabble in techwear and the region's specialist techwear brands. As style continues to evolve, it is likely that more distinct characteristics and innovations will emerge from the Korean techwear scene.
Military Clothing

Urban Techwear also draws inspiration from military clothing. Military apparel has become a significant inspiration for fashion trends, from bold camouflage prints to heavy-duty workwear. Because the army is heavily investing in developing and creating garments tailored for soldiers', this highly technical gear designed by the military provides unbeatable performance and an undeniable stylish edge. These items make it easy to see why so many designers are drawn to its practical appeal.

Today, military-inspired fashion is taking over the streets with its simple and functional design. With features like multiple pockets, straps, and MOLLE webbing for easy organization of items - these products offer both form and function in one package. Durability-wise, they are also made to last; they are crafted from high-quality materials that can handle heavy use – These clothes are perfect for those who want reliable style options across any season!

Military-inspired products are an excellent choice for those who lead an active lifestyle - or want to look the part. These items provide a classic, timeless style and sleek aesthetic, and they're designed for function too! From outdoor activities in any condition to everyday wear, you can trust that your gear has got your back no matter what life throws at you. So if versatility is key and fashion is paramount. It's time to get inspired by militaristic design!

Military-inspired clothing and gear are a favorite for customers looking for style with rugged durability. Whether you need a chest rig, vest or another item to battle your enemy, our store features an extensive selection of military-infused products. These garments cover every practical fashion requirement, from enduringly built items designed in classic lines featuring subtle yet stylish accents. These pieces will provide exceptional protection against any environment and ensure your look is always on point!

Whether you understand the call of duty, prefer life in nature or like to be prepared for anything that comes your way - military-inspired products are perfect for anyone. Shop now and stay one step ahead.
🥷 Your Shop for Technical Clothing & Futuristic Accessories
OFF-WRLD is an independant techwear boutique that focuses on the unification of style and technology in apparel. From trendy urban jackets to the newest version of the katana umbrella, you will find what you need on this techwear website.

Finding the right product with the best value for money can be challenging, especially in this digital age when browsing several clothing shops before stumbling across the coveted item is sometimes necessary. When you're lucky enough to find it in several copies, there's still the matter of comparing prices and ensuring the best possible customer service. Fortunately, our tech fashion shop will soon become your favorite!

By placing your trust in us, you'll always be satisfied with our products. Our customer service team is responsive and attentive to ensure you have the best possible experience. If one day you come to us to buy a hoodie and, while browsing our online boutique, you notice some pretty city Kimonos, then the thoroughness and enthusiasm of our team will keep you coming back for more. We'll be delighted to serve and accompany you on your next purchase. Of course, our customers' loyalty is always rewarded, so don't wait any longer to make our site your favorite store and live out your love for urban techwear fashion.