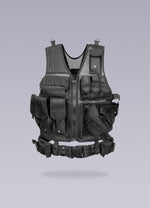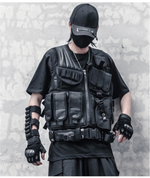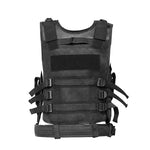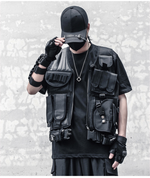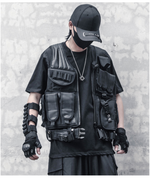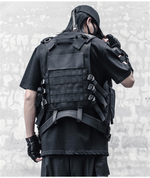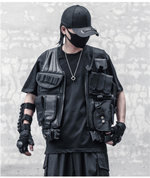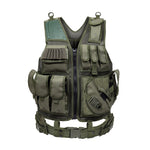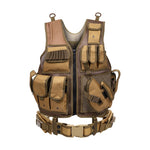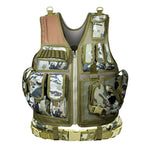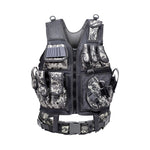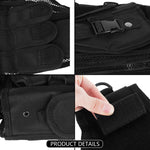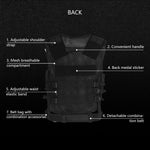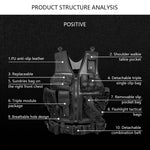 bulletproof military vest
$44.22

Reduced price

$65.00

Comparative price
$65.00

Normal price
Unit price
Please select an available variant
🌐 Cyber Days : -15% with Code: HACK15
Enhance your performance during outdoor activities with this fake bulletproof armor suit.
Unleash the warrior within you with our Bulletproof Military Vest, a testament to the modern urban male's fierce strength and unyielding resilience. This sartorial marvel is not just a piece of clothing; it is an embodiment of power and control, a tribute to those who dare to navigate the urban landscape with audacity and finesse.
Crafted with a keen eye for aesthetics and utility, this black faux bulletproof vest seamlessly transitions from a high-stakes paintball match to a demanding urban exploration.
Enriched with a plethora of features and materials - velcro, straps, buckles, cargo pockets, mesh and an integrated front belt - this combat tactical vest exudes an air of unmatched functionality.  It's more than just a body armor vest, it's an accessory to your bravery, an augmentation to your urban lifestyle. It promises a perfect fit and adjustment when you are on the move, augmenting your swift, agile maneuvers in the urban battlefield.
The military armor, perfect for pursuits like airsoft, paintball, hunting or security tasks, is equipped with mesh and multiple pockets. These intricate details allow for easy storage of ammo, maps, flashlights, and other essentials, ensuring you are prepared for any adventure that comes your way. As a men's tactical vest plucked from the future, it speaks to your readiness, resilience, and resourcefulness.
Breathable mesh, Anti Slip Leather, Shoulder walkie-talkie pocket, Removable pockets, Detachable combination belt, Adjustable straps.

Ultra-resistant vest: Made with high-quality nylon that is durable, flexible and lightweight to preserve mobility.

Technical Clothing: This techwear vest protects you from enemies and completes your urban outfits. 

Design: Military Clothing, Ninja Techwear, Japanese Streetwear, Urban Style

Inspirations: 

Bulletproof Clothing

Suitable for men and women
Read more [+]

Fold [-]

Unleash your potential with our versatile tactical assault vest.

The Bulletproof Military Vest is a confluence of style and practicality, a fusion of design and versatility. It embodies the ethos of military clothing at its finest. Immerse yourself in the journey of evolving from an urban dweller to an urban legend, as you don this powerful and stylish vest, becoming a beacon of strength and determination in your cityscape.

Despite its fake ballistic armor, it offers an aesthetic of genuine strength, making it an eye-catching addition to your outdoor activities and a perfect touch to your urban outfits. As bulletproof clothing for your torso, it underscores your fearless spirit and uncompromising style, ensuring you can tackle any situation with confidence and flair.

If you're looking for something unique and stylish, our Scarlxrd Military Vest is perfect! This techwear tactical vest will perfectly complete your Scarlxrd clothes. And for an even more fantastic selection of techwear apparel, check out our Techwear Vests collection - there's something for everyone!
Size Advice

Our Techwear Vests come in only one standard size.

Designed to be wide and adjustable, they fit all body types.
Shipping

All products are delivered free of charge. We currently ship to over 50 countries.

Average processing time:

 

24 hours

Average delivery time:

 

2 weeks

2 weeks for the

 

USA

 

and

 

Canada.
1 to 2 weeks for

 

European countries.
2 to 3 weaks for the

 

rest of the world.

To track your parcel, just click here.
Returns

We offer a full refund or free exchange within 14 days from the date of receipt of the products.

Feel free to contact us if you have any questions:

By email: info@offwrld-techwear.com

On Instagram: @off_wrld.shop