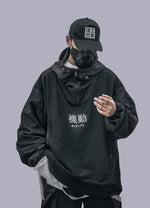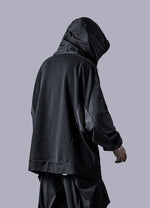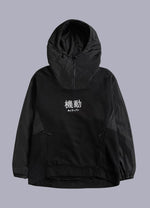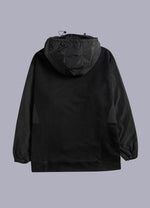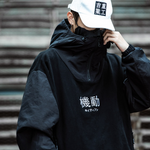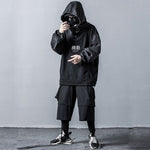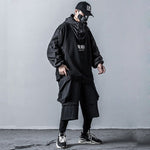 $75.00

Reduced price

$90.00

Comparative price
$90.00

Normal price
Unit price
Please select an available variant
🌐 Cyber Days : -15% with Code: HACK15
Become an ambassador of mystery with the black Japanese Hoodie.
Experience the Japanese Techwear Hoodie – a harmonious fusion of technology and fashion, a manifestation of modern urban sophistication. This techwear top seamlessly integrates style, comfort, and function, ideal for the discerning city dweller aiming to stand out while enjoying the sleek convenience of tech clothing.
This double-hooded men's Japanese hoodie offers an imposing aesthetic. It is a refuge from prying eyes, a perfect companion for those determined to conquer the city while preserving their enigma. With the hood up, you become an ambassador of mystery and allure, a figure clothed in fascination, inviting intrigue with every step.
The hoodie presents an exquisite dual-tone, subtly juxtaposing matte black and light black. This contrast adds an intricate layer of sophistication while whispering your appreciation for Japanese culture through the bold Kanji lettering on the chest. You become a walking testament to a cross-cultural love affair, bridging the East and the West with your style.
Our Japanese hoodie is not just about style. It also serves a purpose. The high zipper collar and large hood provide a protective shell, the perfect Japanese windbreaker jacket blend, and a hoodie's laid-back vibes. 
Airy, enveloping, and comfortable, this Japanese hoodie ensures your urban adventures are experienced with utmost comfort. Every thread and every detail is crafted to resonate with your style and dynamism, always ready to elevate your urban fashion charisma to heights yet unseen.
Ultra-resistant Japanese streetwear hoodie: Made with high-quality materials (polyester & cotton) that are durable, flexible and lightweight to preserve your mobility while keeping you warm.

Technical Clothing: This techwear hoodie will protect you from the elements and complete your outfit. 

Double Hood

Design: Techwear Ninja, Dark Wear, Cyberpunk Aesthetics, Japanese Techwear, Japanese Goth Streetwear, Urban Style

Inspirations: Noragi Jacket
Read more [+]

Fold [-]

Harajuku Techwear Hoodie: your ultimate mid-season outfit.

Embrace the Japanese Techwear Hoodie, for it's not merely a piece of clothing. It is a statement, an experience, a journey towards embodying and expressing your audacious urban spirit. Don this techwear masterpiece, and you've got yourself a mid-season champion, ever ready to shield you from sudden downpours while maintaining your fashion-forward image.

Pair this techwear long-sleeve with a techwear baseball cap, and you've got an impressive Japanese Techwear outfit, unifying individual pieces into an ensemble that exudes charisma and a sense of aesthetic unity.

If a Japanese hoodie isn't for you, check out our unmissable Black Japanese Sweater. This Japan-style sweater will perfectly complete your urban techwear looks. And for an even more extensive selection of techwear apparel, explore and dive into the depths of our Techwear Hoodies collection!
Size Advice

Size
(cm)

Chest
(a)

Length
(b)

Sleeves
(c)

S
124
71
67
M

128
73
68
L

132
75
69
Shipping

All products are delivered free of charge. We currently ship to over 50 countries.

Average processing time:

 

24 hours

Average delivery time:

 

2 weeks

2 weeks for the

 

USA

 

and

 

Canada.
1 to 2 weeks for

 

European countries.
2 to 3 weaks for the

 

rest of the world.

To track your parcel, just click here.
Returns

We offer a full refund or free exchange within 14 days from the date of receipt of the products.

Feel free to contact us if you have any questions:

By email: info@offwrld-techwear.com

On Instagram: @off_wrld.shop