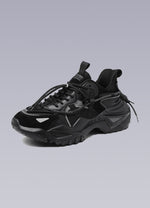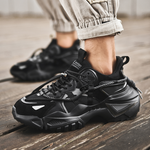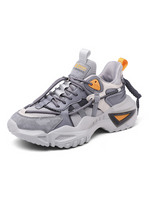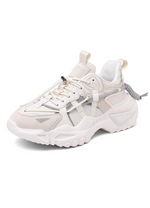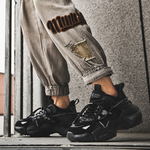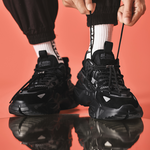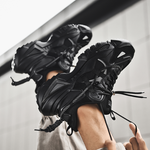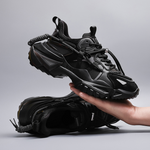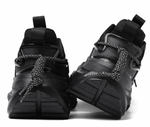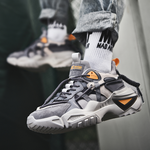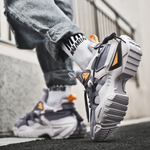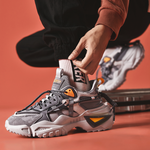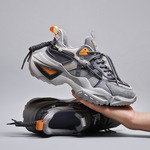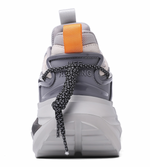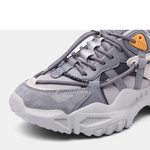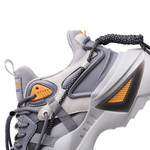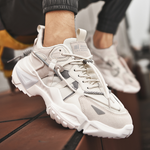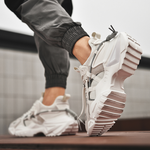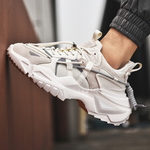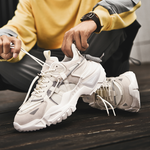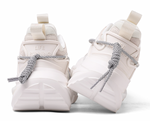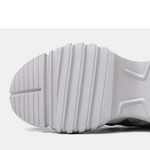 $80.00

Reduced price

$90.00

Comparative price
$90.00

Normal price
Unit price
Please select an available variant
🌐 Cyber Days : -15% with Code: HACK15
Illuminate your city streets with these elegant techwear shoes.
Elevate your stride into the realm of the extraordinary with our Urban Techwear Shoes. These aren't merely footwear; they are a powerful statement of intent, a bold declaration for those who navigate the concrete maze of the metropolis, those who embrace the challenge and thrill of the urban jungle.
These techwear shoes merge the sports field's primal essence with the boardroom's polished sophistication, creating an elegant blend of functionality and aesthetics. The stylish chunky design is a nod to both the athletic and the elegant, echoing the paradox that defines the modern man.
Crafted with authentic leather, these sneakers are robust and exude a quality that commands attention, just as a lighthouse beckons the lost ships at sea. In each step, you'll feel the echo of the techwear samurai, the urban ninja techwear practitioner, manifest in the sturdy design and solid craftsmanship. The avant-garde, thick outsole infuses the design with an otherworldly edge, turning the mundane streets into your personal runway. Each footfall becomes a note in your unique symphony, an articulation of your style that echoes in the silent whispers of the city.
These sneakers personify techwear clothing at its finest, encapsulating the ethos of versatility, durability, and style. Be it darkwear, warcore, or the iconic techwear outfit, they seamlessly integrate, enhancing every ensemble with an unmistakable aura of power.
Genuine Leather material.

Hard-wearing, non-slip & shock-absorbing shoes.

Resistant and breathable: Made with high-quality materials that are durable, flexible and lightweight to preserve mobility.

Technical Clothing: These techwear shoes protect you from the elements and complete your urban outfits. 

Perfect sneakers for everyday wear, going to work or sporting activities.

Design: Japanese Techwear, Japanese Streetwear, Urban Style
Read more [+]

Fold [-]

Get ahead of the fashion trends with these unique and futuristic sneakers.

The Urban Techwear Shoes, therefore, aren't just a pair of shoes; they are an invitation to a new realm of possibilities. They are an opportunity to embody the techwear clothing ethos, to etch your style in the annals of the urban legend, and to become more than a city dweller – a city conqueror. This isn't merely a purchase; it's the first step in a transformative journey that begins with your wardrobe and ends with the world at your feet.

Steeped in Japanese techwear and cyberpunk aesthetic, these shoes breathe life into the urban chaos. They are the visual embodiment of a language spoken by those who dare to dream, innovate, and disrupt the established norms.

If you're looking for something more functional in everyday life, our Tactical Sneakers are perfect!  These high-tech shoes will enhance your techwear outfits. And for an even more fantastic selection of techwear apparel, check out our Techwear Shoes collection - there's something for everyone!
Size Advice


Our team advises you to look at the foot length

 (heel to toe) to choose your correct size, not the "Size" column,

 which only serves as a purchasing 

reference

.


 

| Foot Length | Size |
| --- | --- |
| 22,5 cm  | 39 |
| 23 cm  | 40 |
| 23,5 cm  | 41 |
| 24 cm  | 42 |
| 24.5 cm  | 43 |
| 25 cm | 44 |
| 25,5 cm  | 45 |

 

If you still don't know what size is best for you, please contact us with your weight, height and product name. We will be happy 

to help you!
Shipping

All products are delivered free of charge. We currently ship to over 50 countries.

Average processing time:

 

24 hours

Average delivery time:

 

2 weeks

2 weeks for the

 

USA

 

and

 

Canada.
1 to 2 weeks for

 

European countries.
2 to 3 weaks for the

 

rest of the world.

To track your parcel, just click here.
Returns

We offer a full refund or free exchange within 14 days from the date of receipt of the products.

Feel free to contact us if you have any questions:

By email: info@offwrld-techwear.com

On Instagram: @off_wrld.shop