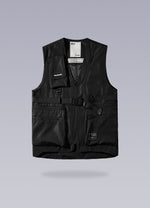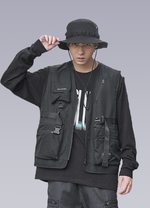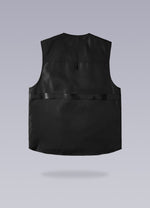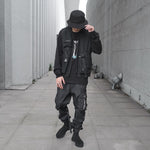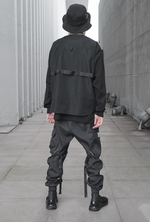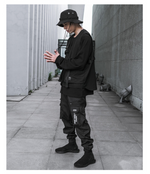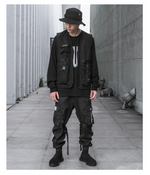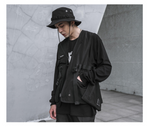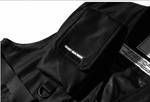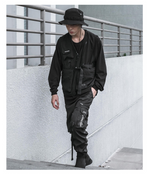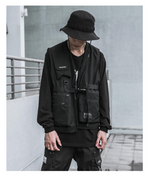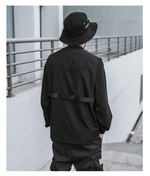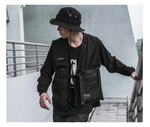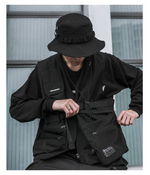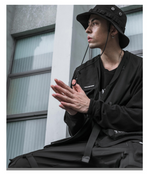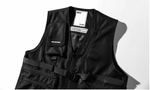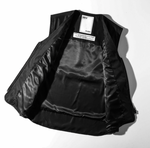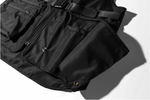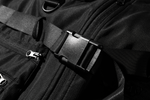 $95.00

Reduced price

$105.00

Comparative price
$105.00

Normal price
Unit price
Please select an available variant
🌐 Cyber Days : -15% with Code: HACK15
Embrace the spirit of urban rebellion with this high-end black streetwear tactical vest.
Unveiling the Streetwear Tactical Vest - an essential fashion armor for the modern, daring urbanite. This isn't just an item of clothing, it's an extension of your persona, the embodiment of a trendsetter navigating the complex maze of city life.
Envision yourself emerging from the depths of the concrete jungle, standing tall in this sleek and sophisticated techwear vest with straps. Picture your reflection gleaming back at you from the steel and glass that shapes your urban playground. This stylish tactical vest defines you - a symbol of resistance against the homogeneity of modern fashion. As a tactical utility vest, it adds a layer of intrigue to your ensemble, effectively transforming the mundane into the extraordinary.
Its multiple pockets, straps, and buckles narrate a tale of practicality merged with style. A black tactical vest aligns with the aesthetics of warcore, darkwear, and street goth outfits, asserting your presence in the most nonconformist manner.
This is not simply a streetwear vest for men. You don a piece that echoes your affinity for the unconventional, carrying forward a unique style, and pledging to uphold your distinctiveness. The sleeveless jacket contributes an intricate yet sophisticated touch to your urban outfits, reinforcing your position as a leader in men's streetwear. 
Ultra-resistant vest: Made with high-quality nylon that is durable, flexible and lightweight to preserve mobility.

Technical Clothing: This techwear vest protects you from enemies and completes your urban outfits. 

Design: Military Clothing, Ninja Techwear, Darkwear, Japanese Streetwear, Urban Style
Read more [+]

Fold [-]

Revolutionizing men's tactical fashion: discover this streetwear vest.

Each detail of the vest speaks volumes about who you are - an individual not afraid to challenge the status quo, a trendsetter shaping the future of men's fashion. As you step out in your Streetwear Tactical Vest, you turn heads, instigate conversations, and establish your position in the realm of avant-garde urban style. Embrace the future of fashion. Your journey starts here.

For techwear clothing with more tactical features, explore our Bulletproof Military Vest. This fake bullet proof vest will perfectly complete your techwear outfits. And if you're looking to expand your wardrobe further, discover our diverse range of Techwear Vests today! 
Size Advice

 

| Size (cm) | Shoulder | Length |
| --- | --- | --- |
| M | 41,1 | 68,5 |
| L | 42,3 | 70,5 |
| XL | 43,5 | 72,5 |

  
Shipping

All products are delivered free of charge. We currently ship to over 50 countries.

Average processing time:

 

24 hours

Average delivery time:

 

2 weeks

2 weeks for the

 

USA

 

and

 

Canada.
1 to 2 weeks for

 

European countries.
2 to 3 weaks for the

 

rest of the world.

To track your parcel, just click here.
Returns

We offer a full refund or free exchange within 14 days from the date of receipt of the products.

Feel free to contact us if you have any questions:

By email: info@offwrld-techwear.com

On Instagram: @off_wrld.shop