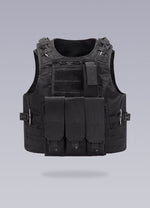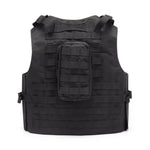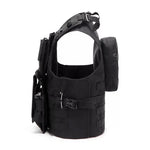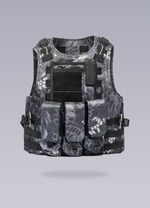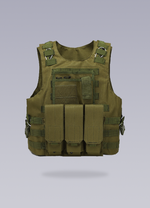 $80.00

Reduced price

$80.00

Comparative price
$80.00

Normal price
Unit price
Please select an available variant
🌐 Cyber Days : -15% with Code: HACK15
Discover the ultimate urban armor: experience the benefits of our tactical utility vest.
Embark on the journey towards impeccable urban sophistication with our Tactical Vest Techwear. This isn't merely a tactical vest; it's a bold declaration of style, an evolution towards a future where the lines between fashion and function blur, and intimidation meets charisma in the city's heart.
An embodiment of sleek intimidation and elegance, this stylish tactical vest redefines your presence. Its design is a dance between form and function, an unapologetic blend of style that accentuates your urban outfits, infusing them with an edge of tactical charm. Whether you're engaging in urbex, airsoft, cosplay, or merely conquering your everyday urban jungle, this vest ensures you're always prepared.
Constructed with a water-resistant zipper and high-density straps, our tactical cargo vest braves wind, rain, snow, and dust, safeguarding your essentials against all odds. The chest pouch, adjustable via velcro and zipper, extends warmth and comfort, readying you for any situation, any environment. The nylon and spandex lining, adjustable shoulder straps, and waistband mold to your form, presenting an armor custom-tailored for your urban exploits. Moreover, the double-sided design presents a multiplicity of style options, with spacious inner pockets to secure your essentials.
This vest is an unparalleled testament to techwear ninja style, inviting you to pair it with standout accessories such as a techwear bag or a techwear belt. It is an initiation into the world of darkwear, warcore, and street-savvy utility vest streetwear.
Molle system, Velcro, Flashlight Pocket, Map Pocket, Shoulder Wire, Adjustable webbing.

Ultra-resistant vest: Made with high-quality materials that are durable, flexible and lightweight to preserve mobility.

Technical Clothing: This waterproof techwear vest protects you from enemies and the elements, and completes your urban outfits. 

Perfect for urbex, airsoft, cosplay, and military operations.

Design: Military Clothing, Techwear Clothing, Warcore, Ninja Clothing, Japanese Streetwear, Urban Style

Inspirations: Pupil Travel, Scarlrxd Outfits

Suitable for men and women
Read more [+]

Fold [-]

Unveil a new sartorial chapter: discover this tactical streetwear vest for standout warcore outfits.

Experience the metamorphosis from being a city dweller to becoming the city itself. With our Techwear Tactical Vest, you're not just wearing a piece of techwear clothing, but embracing an urban legend, a future where the king of the streets is you.

This utility cargo vest epitomizes the ultimate synthesis of aesthetics and practicality by combining military clothing, technical apparel, Japanese streetwear, and alternative fashion. Crafted for the urban warriors, the aesthetic adventurers, and the techwear ninjas who command the city streets, this vest is your ideal shield against the elements, your badge of urban royalty.

Our Techwear Utility Vest is an unbeatable choice for those looking for something more fashion-forward. This black tactical vest is an essential if you want to complete your techwear or warcore outfits. And if you're after the perfect statement piece to complete your wardrobe, look at our range of Techwear Vests - there's sure to be one that catches your eye!
Size Advice

Our Techwear Vests come in only one standard size.

Designed to be wide and adjustable, they fit all body types.
Shipping

All products are delivered free of charge. We currently ship to over 50 countries.

Average processing time:

 

24 hours

Average delivery time:

 

2 weeks

2 weeks for the

 

USA

 

and

 

Canada.
1 to 2 weeks for

 

European countries.
2 to 3 weaks for the

 

rest of the world.

To track your parcel, just click here.
Returns

We offer a full refund or free exchange within 14 days from the date of receipt of the products.

Feel free to contact us if you have any questions:

By email: info@offwrld-techwear.com

On Instagram: @off_wrld.shop