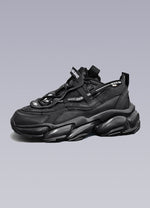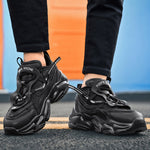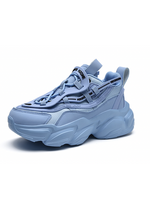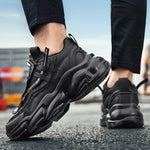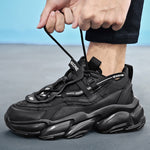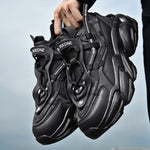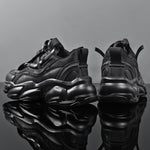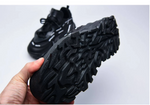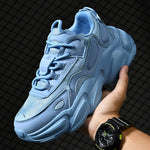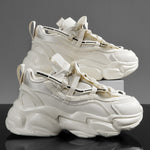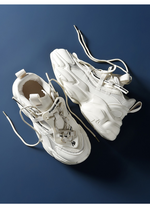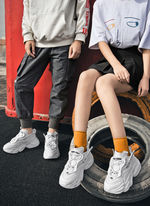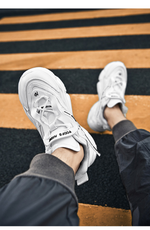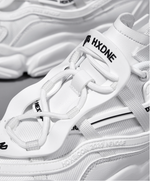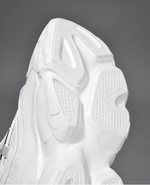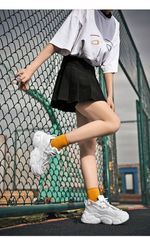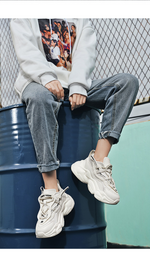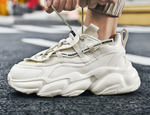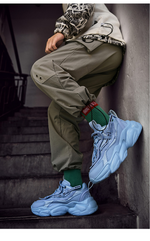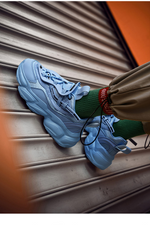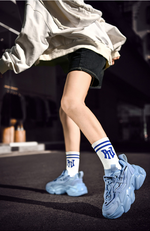 $70.00

Reduced price

$80.00

Comparative price
$80.00

Normal price
Unit price
Please select an available variant
🌐 Cyber Days : -15% with Code: HACK15
Illuminate the streets of your city with these innovative techwear shoes.
Dive into the epitome of style with our cutting-edge Techwear Sneakers, a sartorial statement that transcends mere apparel to redefine urban sophistication. Designed for the modern man who dares to diverge from the conventional, these shoes emanate an aura of the rebel spirit, catering to those who are not just inhabitants of the city, but its soul, and its vibrancy.
Crafted at the intersection of forward-thinking style and innovative design, these techwear shoes are a testament to the power of merging aesthetics with functionality. With their oversized, thick outsole, they command attention, the shiny surface reflecting the city lights, whispering tales of the elegance and comfort beneath.
The shoes, sleek and dynamic, are an embodiment of the modern urban aesthetic, breathing life into your style. Their breathable design ensures that even in the midst of a bustling city summer, your stride remains cool and confident. The marriage of comfort and elegance is a balance struck not just for the eyes, but also for your feet.
These futuristic shoes are a testament to versatility, effortlessly blending with your wardrobe. Whether pairing them with suit pants for a day at the office or techwear joggers for an evening city exploration, these shoes adapt, harmonizing with your outfit while maintaining their standout appeal. The future of footwear is versatile, and these shoes are its vanguard.
Let these shoes be your armor as you carve out your space in the urban landscape. Their futuristic design serves as a bridge, connecting you to the city, to its pulse. This isn't just footwear - it's an extension of your personality, an embodiment of your sophisticated urban spirit. 
Resistant and breathable: Made with high-quality materials that are durable, flexible and lightweight to preserve mobility.

Technical Clothing: These techwear shoes protect you from the elements and complete your urban outfits. 

Perfect sneakers for everyday wear, going to work or sporting activities.

Design: Techwear, Ninja Clothing, Japanese Streetwear, Urban Style

Suitable for men and women
Read more [+]

Fold [-]

Switch seamlessly from a work outfit to an urban ninja look: embrace the versatility of these futuristic sneakers.

Perfect for all seasons, these futuristic sneakers transcend the cycle of fleeting trends. They are a timeless piece in your techwear clothing arsenal, ready to lend an edge to your darkwear ensemble or light up your summer techwear outfit. For alternative fashion lovers, they can also be worn as goth sneakers.

Embrace the transformation, the metamorphosis from the city dweller to the city shaper, with our technical shoes.

If you're looking for something even more casual and stylish, our Urban Techwear Shoes are perfect! With their design, For an even more fantastic selection of techwear apparel, check out our Techwear Shoes collection - there's something for everyone!
Size Advice

Our team advises you to look at the 

foot length

 (heel to toe) to choose your correct size, not the "Size" column,

 which only serves as a purchasing 

reference

.

 

| Foot Length | Size |
| --- | --- |
| 22 cm  | 35 |
| 22,5 cm  | 36 |
| 23 cm  | 37 |
| 24 cm  | 38 |
| 24.5 cm  | 39 |
| 25 cm | 40 |
| 25,5 cm  | 41 |
| 26,5 cm  | 42 |
| 27 cm  | 43 |
| 27,5 cm  | 44 |
| 28,5 cm | 45 |

 



If you still don't know what size is best for you, please contact us with your weight, height and product name. We will be happy 

to help you!
Shipping

All products are delivered free of charge. We currently ship to over 50 countries.

Average processing time:

 

24 hours

Average delivery time:

 

2 weeks

2 weeks for the

 

USA

 

and

 

Canada.
1 to 2 weeks for

 

European countries.
2 to 3 weaks for the

 

rest of the world.

To track your parcel, just click here.
Returns

We offer a full refund or free exchange within 14 days from the date of receipt of the products.

Feel free to contact us if you have any questions:

By email: info@offwrld-techwear.com

On Instagram: @off_wrld.shop